This model was sold in the United States for the 1974 model year only, but was available in other countries until 1978. The engine was enlarged over that of the 240Z with a longer stroke to 2.6 L.
A 3-speed automatic transmission was an option, and the 4-speed manual remained standard.
1974 brought for the first time to the S30 line a new 2/2 (2+2) seating option, which offered room for 4 passengers and an extra 11.9 in (302 mm) of wheelbase. These cars have a notably different roofline from the two-seat coupés, incorporating larger opening quarter panel windows.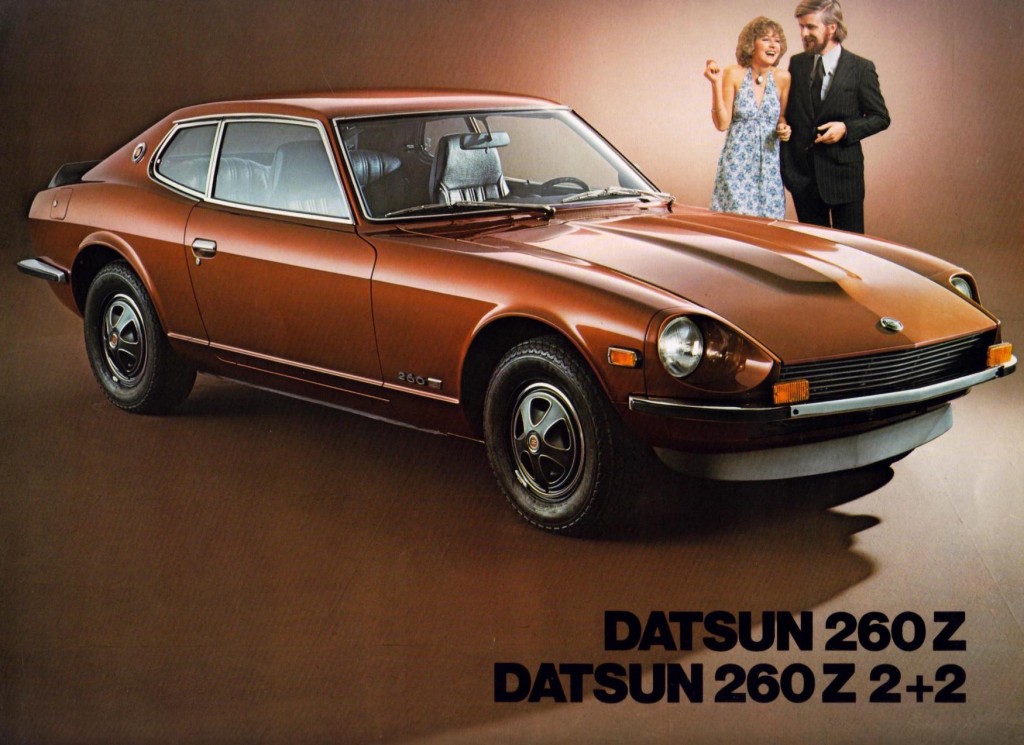 The 260Z claimed a few updates or improvements over the 240Z. The climate controls were more sensibly laid out and easier to work, and those cars with air conditioning now had the A/C system integrated into the main climate control panel. There was also additional stiffness in the chassis due to a redesign of the chassis rails which were larger and extended further back than previous models. A Rear sway bar was added as well. The 260Z debuted a redesigned dashboard and console, as well as new seat trim, and door panels for the interior. The tail lights were updated, moving the back up lights from the main tail light housing to the back panel.
Specifications
Engine: 2.6 L (160 cu in) L26 I6, cast-iron block, alloy head, two valve per cylinder, seven-bearing crankshaft, single overhead camshaft

Displacement: 156.6 cu in (2,565 cc)
Bore: 83.0 mm (3.27 in)
Stroke: 79.0 mm (3.11 in)
Compression Ratio: 8.3:1 (93 oct)

Fuel System: Mechanical fuel pump, twin Hitachi HMB 46W 1.75 in (44 mm) SU-type carburetors
Power: 162 hp (121 kW) at 5,600 rpm
Torque: 157 ft·lbf (213 N·m) at 4,400 rpm
Transmission: Four-speed manual or three-speed automatic
Brakes:

Front: 10.7 in (270 mm) discs front
Rear: 9.0 in (230 mm) X 1.6 in (41 mm) drums rear, servo assisted

Total swept area: 393.7 sq in (2,540 cm2)

Suspension:

Front: Independent with MacPherson struts, lower wishbones, coil springs, telescopic dampers, anti-roll bar
Rear: Independent with Chapman struts, lower wishbones, coil springs, telescopic dampers

Steering: rack and pinion, 2.8 turns lock to lock
Wheels/ Tires: 5.5 by 14 in (140 by 360 mm) pressed steel wheels with 195VR14 radial tyres
Top Speed: 127 mph (204 km/h)
0 to 60 mph (97 km/h): 8.0 sec
Fuel consumption: 20 to 28 mpg-US (11.8 to 8.4 L/100 km; 24 to 34 mpg-imp)
Engine oil (sump): 9.0 Imp pints (5.1 liters/10.7 US pints)
Tare weight: 1,350 kg (2,980 lb)